Invisalign Zug - Invisible Braces
With invisible braces from the pioneer Invisalign® to visibly beautiful teeth - individual and professional treatment support from our experienced dentists.
Invisalign® offers you an invisible correction of the position of your teeth - gaps, crooked teeth and crowding can be corrected with the invisible splints within a few months. Pain-free, without anyone seeing it and at a fair price. At the Zug train station dentists, you will receive professional, individual treatment, exclusively from certified dentists with the original Invisalign® system. By working with Invisalign® - the undisputed world market leader for clear braces - we underline the claim that our patients should receive the highest quality product at a fair price.
A beautiful smile for everyone - from CHF 92 per month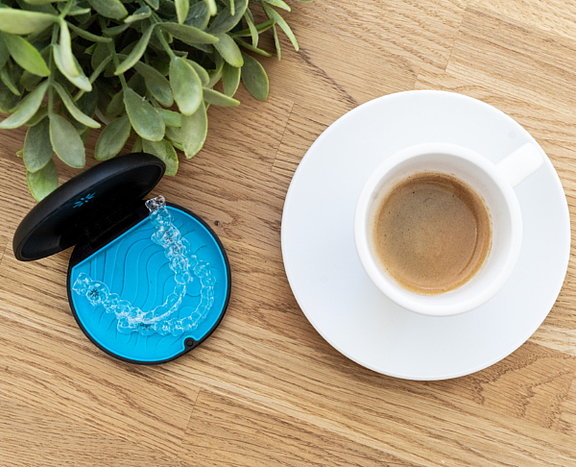 Benefits of Invisalign
DISCRETE
Invisible, no effect on pronunciation
ENJOYABLE
No pain
FAST
Result in 3-18 months
PRACTICALLY
Can be removed at any time
PRICES INVISALIGN® GO
Different Invisalign® systems are used depending on the treatment goal. For the treatment of the front teeth, we offer Invisalign® Go
Initial consultation / scan incl. OPT CHF 290
Upper and lower jaw Invisalign Go for upper and lower jaw costs a flat rate* CHF 2'990 excl. dental costs (incl. dental costs approx. CHF 5'000)
If only one jaw is treated, the costs amount to a flat rate* CHF 1'990 excl. dental costs (incl. dental costs approx. CHF 2'500)
The preparation of the ClinCheck® 3D treatment plan by Invisalign® costs CHF 150. If you decide to have the treatment, the amount will be credited to the all-inclusive price.
Contact
Zahnärzte Bahnhof Zug – Partner of swiss smile
In the SBB railway station building
Bahnhofplatz, 2nd floor on the right
6300 Zug
info@zahnaerztebahnhofzug.ch
041 511 94 08
| | |
| --- | --- |
| Mon | 08:00 – 19:00 hours |
| Tue | 08:00 – 17:30 hours |
| Wed | 08:00 – 17:30 hours |
| Thu | 08:00 – 17:30 hours |
| Fri | 08:00 – 19:00 hours |
| Sat | 09:00 – 16:00 hours (by arrangement) |
You will find us in Zug railway station on the seocnd floor on the right. It is best to use the glass lift in front of the Zug pharmacy. There are plenty of public parking spaces available.